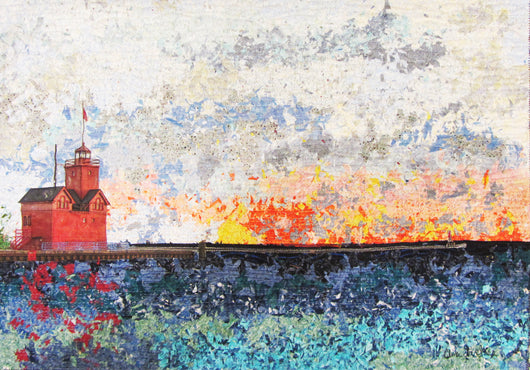 Big Red Lighthouse Impressionistic Horizontal
Ann Loveless
Regular price $775.00 Sale
Holland's majestic Big Red Lighthouse stands along the Holland Channel. Each hand cut piece of fabric showcases the variegated hues of sunset skies and blue waters. Iridescence blues capture the shadows and varied levels of the lake. All of Ann's fabric art is best seen in person.
"Paintings with Fabric". Ann creates intricate art pieces using fabric and a mix of quilting techniques. There will be slight variations as these pieces are individually created.  
Fabric paintings by Ann are artist-mounted on a white, acid free backer, and should be framed behind glass using spacers, or an archival mat to lift the glass away from the art.